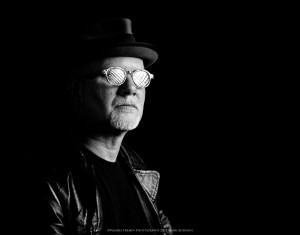 Mark Addison, AKA "Professor Feathers" is an independent music producer/engineer with 40 years experience in the field, a multi-instrumentalist and a published singer/songwriter with songs covered by Edwin McCain, Cher, Joan Baez and Gene Simmons among others. 
The former frontman for the Los Angeles-based group The Borrowers now lives in Texas where he maintains a small recording studio, The Aerie, in a rural area a short distance from downtown Austin. He is also involved with the Health Alliance for Austin Musicians (HAAM) and is on the advisory board for Black Fret.
Addison was born in London, England and raised in Cleveland, Ohio. Early lessons in piano and music theory gave way to guitar and rock music, and Addison eventually ended up co-fronting The Generators, a Cleveland group that became the model for "The Barbusters" in Paul Schrader's film "Light of Day."
After a move to Los Angeles in the late 80's, Addison formed The Borrowers, one of the first American groups to bring acoustic instruments into the forefront of rock music. The group recorded one album, "The Borrowers" for EMI/Guardian, and disbanded after released a second, "Overcoming Gravity" on their own.
Addison relocated to Austin in the 90's and discovered his real love was producing and recording other artists. His credits include Sara Hickman's "Absence of Blame," Ian Moore's "And All the Colors," Bob Schneider's "Galaxy Kings," Matt the Electrician's "Animal Boy" and "Accidental Thief," Wendy Colonna's "Nectar" and "No Moment But Now," Jess Klein's "Learning Faith," "Bound to Love" and "Behind a Veil," Patrice Pike's "The Calling," Guy Forsyth's "Love Songs For and Against" and "Calico Girl," The Band of Heathens' "Live From Momo's" and "One Foot in the Ether"(#1 at Americana Radio), Will Sexton's "Scenes From Nowhere" and Irish artist Mundy's platinum selling "Raining Down Arrows."